Hello lovely people. At the beginning of this year I had made a few goals. One of them was to do a
letterpress course/class/workshop
. I also wrote another post about more
goals
and getting out of comfort zone. So far this year I'm achieving these goals slowly and it feels amazing. A few weeks ago I attended a two night letterpress workshop at the
Design College Australia.
It was a wonderful experience and I'm so glad I finally took the plunge and enrolled in the workshop. They work with traditional letterpress and type and even though in the future I'm aiming to work with polymer plate letterpress printing it gave me a better understanding of the whole process and the history of the printing form. My instructor was so passionate about it that it filled me with excitement.
The workshop was over two nights over two weeks. We worked in partners because it takes a long (loonngg) time to put it together and it's easier having someone to bounce ideas off.
It's terrible but I can't remember what type of letterpress machine this is but it's the one that we all used.
I was trying to figure out another way to put the type together and I was concentrating hard.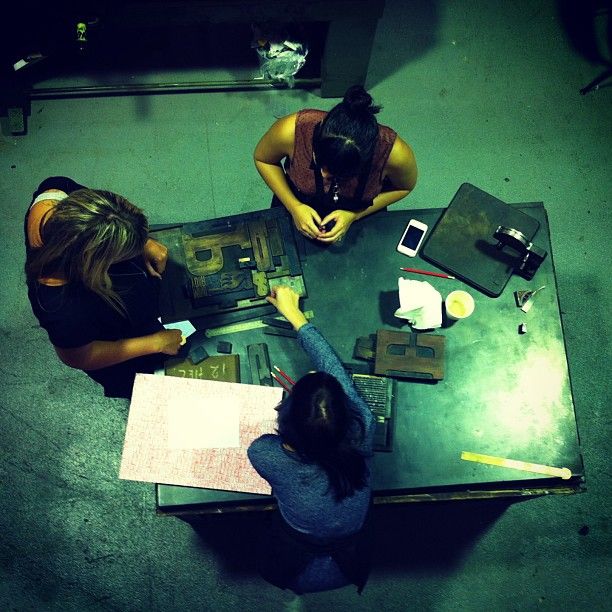 I like this birds eye view of us working. This was taken by our instructor.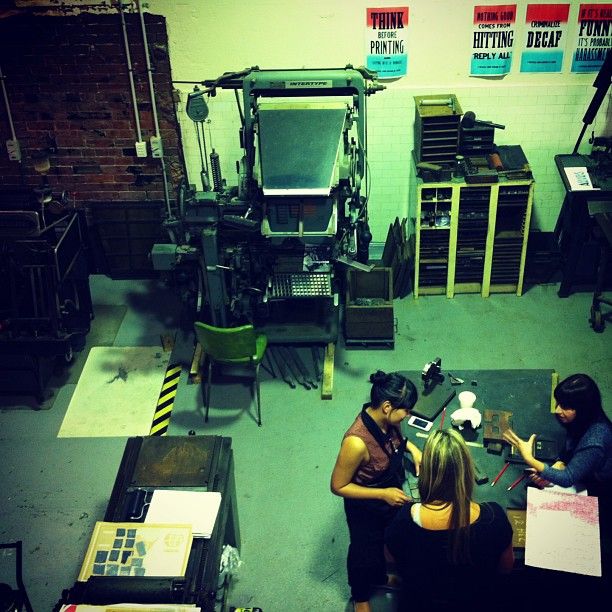 Another view from the top. This place was amazing! Apparently it's an old bacon factory (or something like that. Lots of character).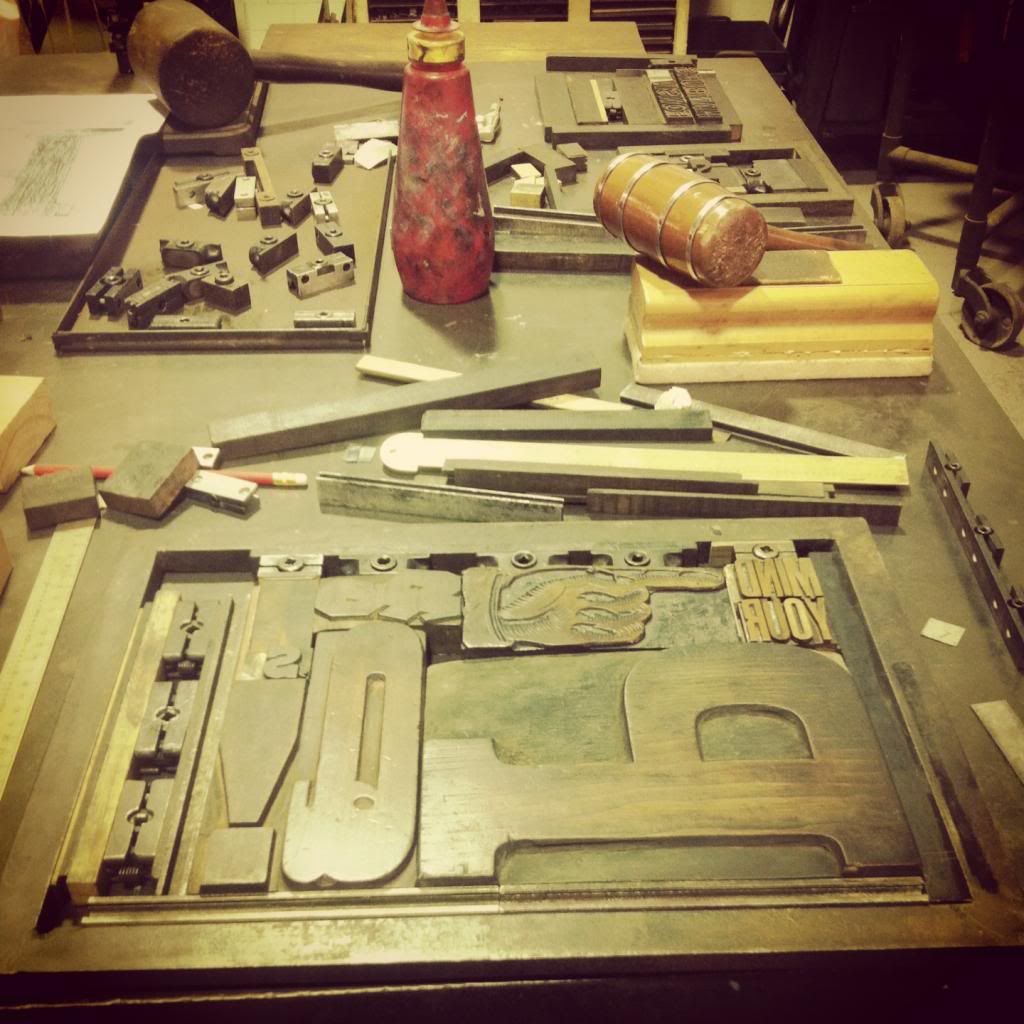 This was from night two. This part took a long time to do. It doesn't seem like much but if you've done any traditional letterpress you would know the time it takes.
As you can see I was quite excited to paint and get the print finished.
A few of our prints. We had to make a few as they are all slightly different.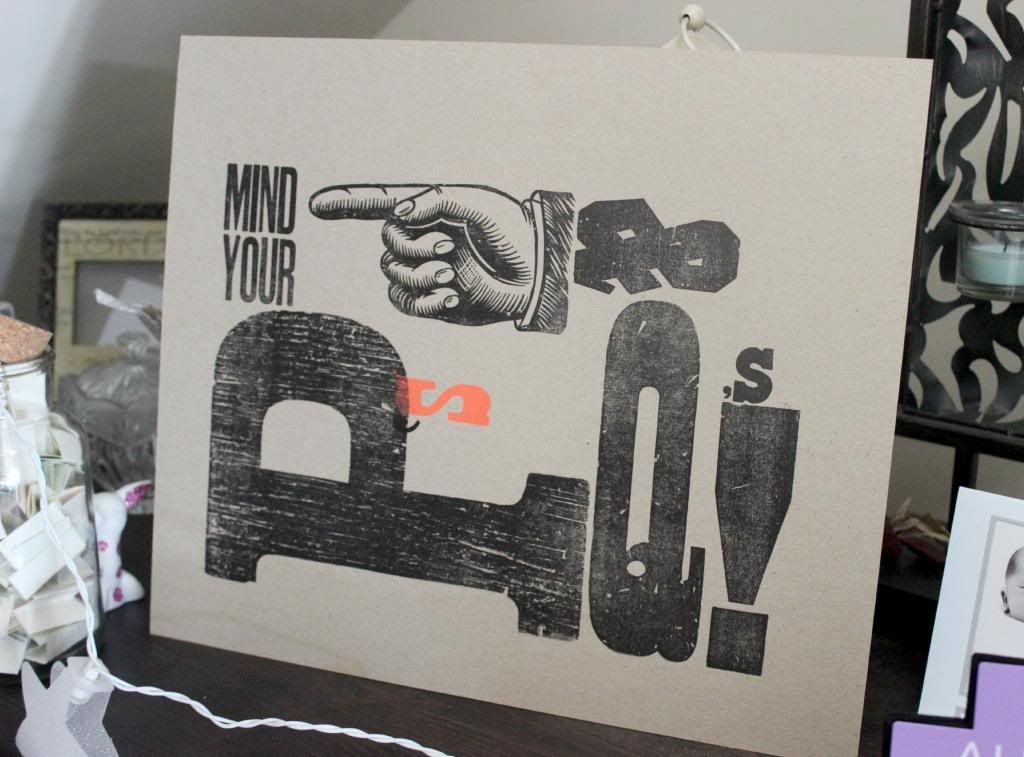 So this is the final product. What I love about the traditional form is feeling the wood type in your hands. It has a nice texture and I like the rustic look. The imperfections give it character. Plus our instructor suggested the awesome orange. You can't tell from this photo but it's a delicious looking fluro orange. It adds a more modern element to an otherwise traditional piece.
At the end you feel a sense of satisfaction knowing that you put together this print. We chose the type we wanted to use, the layout and we had to pick a print saying from a list they provided us.
You can not believe how excited I was to finally do something I've wanted to do for ages. I'm glad I finally stopped making excuses and just did it.
What have you done that you have been wanting to do for a long time?
Have a wonderful weekend.