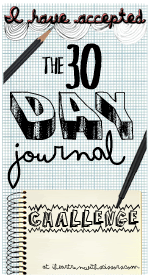 I have accepted the 30 Day Journal Challenge over at
Run with Scissors
. Each day Janel will post a prompt and we journal the way we want to. It could be sketching, doodling, writing, pictures. However you want to journal.
I think it is a fantastic way to get my creativity
goi
ng
and to journal consistently. Day 1 and Day 2 prompts have gone up and I've done mine. They're not fantastic but it's a good start. So hopefully by the end they will be a lot better.
The first task was to introduce ourselves. Because I have always loved those mind maps I thought it was appropriate. Excuse my little doodles. Drawing is definitely not one of my strong points.
The next task was to write/doodle/sketch the best part of your day. The lighting wasn't too good because it was late afternoon by the time it was completed. I chose to be a little mushy and said that Jason was the best part of my day :)
I think will my normal journalling I will incorporate pictures and other things sometimes. It makes me feel so creative. Right now I'm in the most creative mood, which is a good thing I guess. Maybe I will finally complete everything I've put on my to do.
Anyway, poor Jason is home sick and I feel like I might have picked it up slightly. So I will relax today. And we have dinner at my parents house. My brother and my new sister in law Melly are back from Europe! But more about that next time.
This image reminds me that I have a 365 journal and I haven't started it yet. Plus I have a few journal swaps that I must start with some blog friends. Sorry girls it will happen.