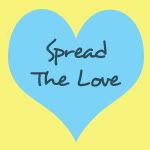 This little project has been started by the lovely Melissa from
Oh, My Darling
. Basically each day for a week you must do something lovely for someone which is positive and filled with love and gratitude. I think it's a wonderful thing to be a part of.
I might have to start mine this weekend of I can always start today. I have a few ideas that are bouncing around my head right now. Check out Melissa's
blog
for more ideas and see what she has been doing. She's such a sweet and positive person and she has inspired me :)
So here are a few of my ideas for Spread the Love...
♥
Send some letters and little packages to some friends (blog and others)
♥
Bake some Jam drop biscuits for Jason and me (I have the ingredients I just haven't done it yet)
♥
Start my little mail project I have been thinking about
♥
Actually post about my giveaway :)
♥
Send out some positive emails
♥
Share happy thoughts each post I do for at least a week (maybe I should turn it into a month)
♥
Make some brownies for my mum and dad for being wonderful
♥
And just for fun - with the first 10 comments I'll send out a little card or post card to you :) With a handwritten message of course.
I hope I can do more than this, but it's a start. I must get back to making mini notecards for my event/stall this weekend!!
Have a fabulous rest of week!!